How to Paint a Crosswalk
v1.0 (published 25 April 2022)
This guide is for educational purposes only
Download as PDF
About this guide
The instructions below are about making a crosswalk that looks as legitimate as possible, to create as safe an environment for pedestrians as possible, ensure that the crosswalk lasts as long as possible, and reduce the likelihood that it is removed by local authorities. This guide also aims to ensure that painting is done while prioritizing the safety of the participants and that of passing drivers and bystanders.
Cost
Initial cost: $300 ($150 for the stencil, $150 for the remaining items)
Cost per crosswalk: about $50 (for the paint and paint roller cover)
Time
One regular crosswalk (eight bars across) will take 90 minutes to 2 hours, including drying time.
Personnel
At least four people, but preferably five or six: two or three to measure, hold the stencil, and paint; and two or three to do traffic control.
Measurements
These vary but many standard crosswalks are 2 feet x 15 feet, with 3 feet between crosswalk bars. Due to stencil availability and our capacity as a small team, our crosswalk bars are 2 feet x 7.5 feet. Shorter crosswalk bars are fine for small streets and require less time and paint. But for a bigger road, you'll likely want a longer crosswalk bar.
Materials
Paint: You want a quick-drying white traffic marking latex paint suitable for asphalt; read the paint's specifications and look for one that dries in 15 minutes; budget 1 to 1 1/2 gallon per eight-bar crosswalk; note that crosswalks may be a different color depending on the location and may require a different paint color, so check the guidelines in your area. For example in Los Angeles, crosswalks near schools are usually yellow
Paint can opener: Should match your paint can size, 1 gallon or 5 gallon
Paint tray: Should match or exceed your paint roller frame size
Crosswalk stencil: Buy one from a traffic safety supply store (if you have trouble finding where to purchase one, feel free to message us) or make your own; we do not recommend free-handing if you want your crosswalk to look legitimate.
Paint roller frame: 9-inch; you may want a wider roller to match the stencil width but keep in mind that paint roller covers of 12 inches are harder to source; 9-inch rollers and covers are the easiest to find
Paint roller covers: same width as your roller frame; you want a minimum ¾ inch nap, suitable for rough surfaces; 1 inch nap is even better but not always as easy to obtain; buy a bunch of these as the more used they get, the less smooth your paint job and the longer each crosswalk bar will take to paint
Paint roller extension pole
Stop/Slow paddles for traffic management
Traffic cones, barricades, and caution tape
Safety vests: high-visibility and yellow
White or yellow hard hats
Chalk
String: at least as long as the width of the street where you're painting the crosswalk
Scissors
Masking tape
Tape measure or wooden ruler
Gloves and appropriate clothes and shoes
Garbage bags
Push broom for clearing debris and leaves
Small paintbrush for polishing corners and edges
Water, sunscreen, and snacks: Painting a crosswalk is physical work and, if done in sunny weather, can lead to dehydration; bring plenty of water and apply sunscreen
How to select an intersection
Other than ensuring a need for a crosswalk, there are several factors to consider when selecting an intersection for your crosswalk:
How much traffic is going through the intersection: As explained below, traffic control is a major part of the work of painting a crosswalk. If you select an intersection that is too high-traffic or where cars drive fast, you may endanger yourself and others in the vicinity, and attract the attention of authorities. Large or busy intersections may be doable but require more preparation and many more participants for traffic control.
How wide is the street: Wide streets require more time and more paint.
What is the quality of the asphalt: Cracked, uneven, or very old asphalt is hard to paint on. It may be doable but would require much more paint (up to double the usual amount) and many more rollers, for a result likely to be suboptimal.
Are there stop signs or limit lines: If there are none, painting a crosswalk could put pedestrians at risk, giving them a false sense of security. Crosswalks are most effective when there is already some level of infrastructure in place.
Take note of curb cuts: Hopefully, they exist and are properly positioned so as to accommodate wheelchair users and strollers. A crosswalk at an intersection without curb cuts is still better than nothing but the ideal scenario is an ADA-compliant curb cut to ensure that the crosswalk is accessible to all.
Before you begin
Observe and measure crosswalks in the target area so yours can match the style in use.
Visit the area of the planned crosswalk to assess condition of the asphalt and decide what times have lowest traffic.
Check the weather and make sure it will not rain or be too windy and that it will be hot enough for the paint to dry quickly. Temperature should be a minimum of 50 degrees and a maximum of 90 degrees. (Read your paint's specifications for its temperature requirements.)
We strongly suggest you do a practice session in an empty lot to familiarize yourself with the materials and method.
Notes on interactions with the public
More than likely, you will have only positive interactions with members of the community. The vast majority of people are happy to see a crosswalk going in. Be friendly, polite, and respectful.
Steps to paint the crosswalk
1. Set up the street for optimal safety
Block off half the street using traffic cones or barricades and caution tape. You will paint half the crosswalk, let it dry, then reopen that half of the street and block off the next half. At least two people, preferably three, should carefully manage traffic.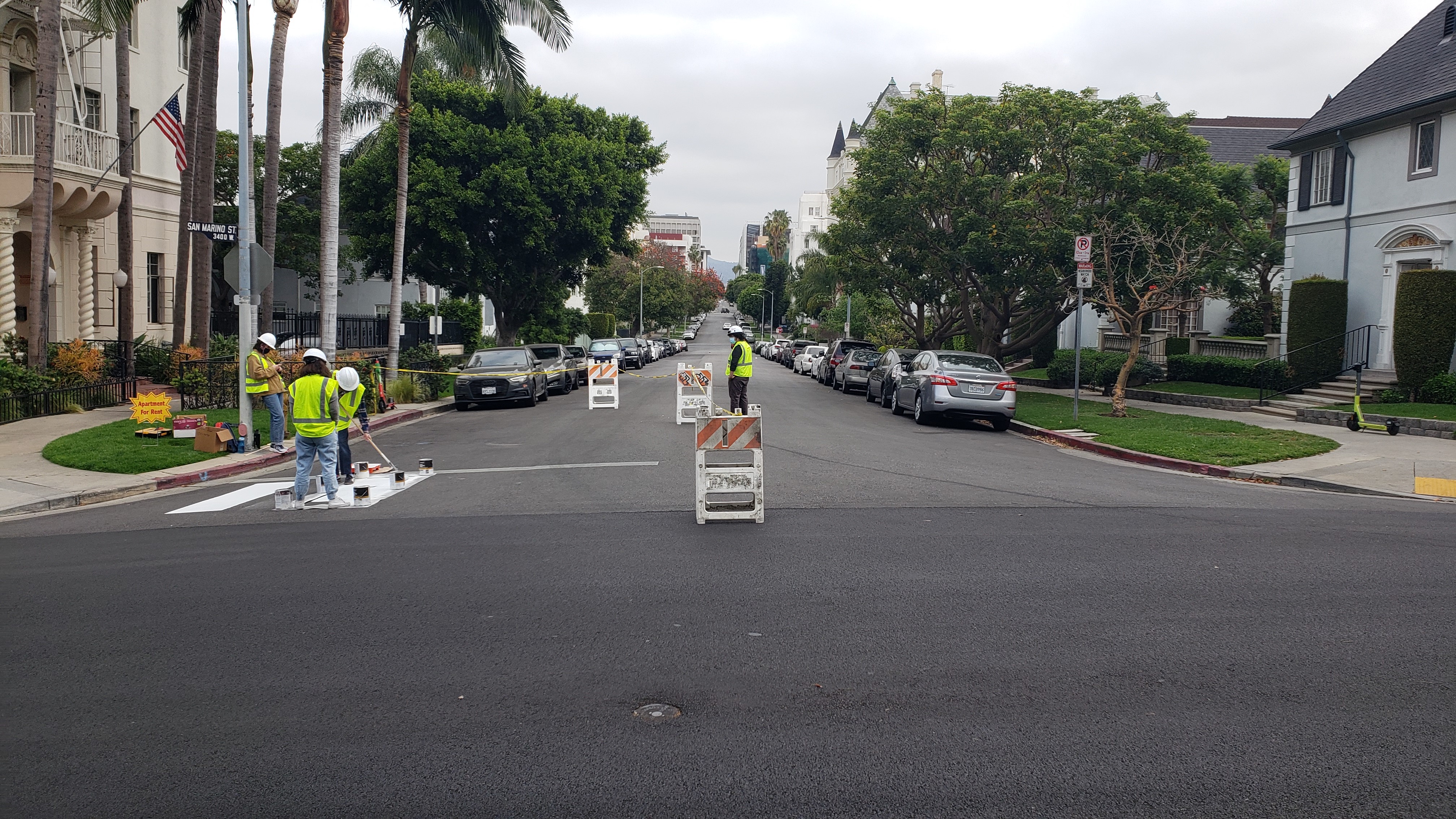 2. Set the stencil
Many streets have what are called stop or limit lines, white painted lines indicating where cars should stop. These serve as helpful guides for lining up your crosswalk stencil. Set your stencil against the line a little way from the curb. Make sure it is straight and hold the corners and sides down using paint cans, other heavy objects, or a participant's feet.
If there are no stop or limit lines, refer to step 9 below and use string instead.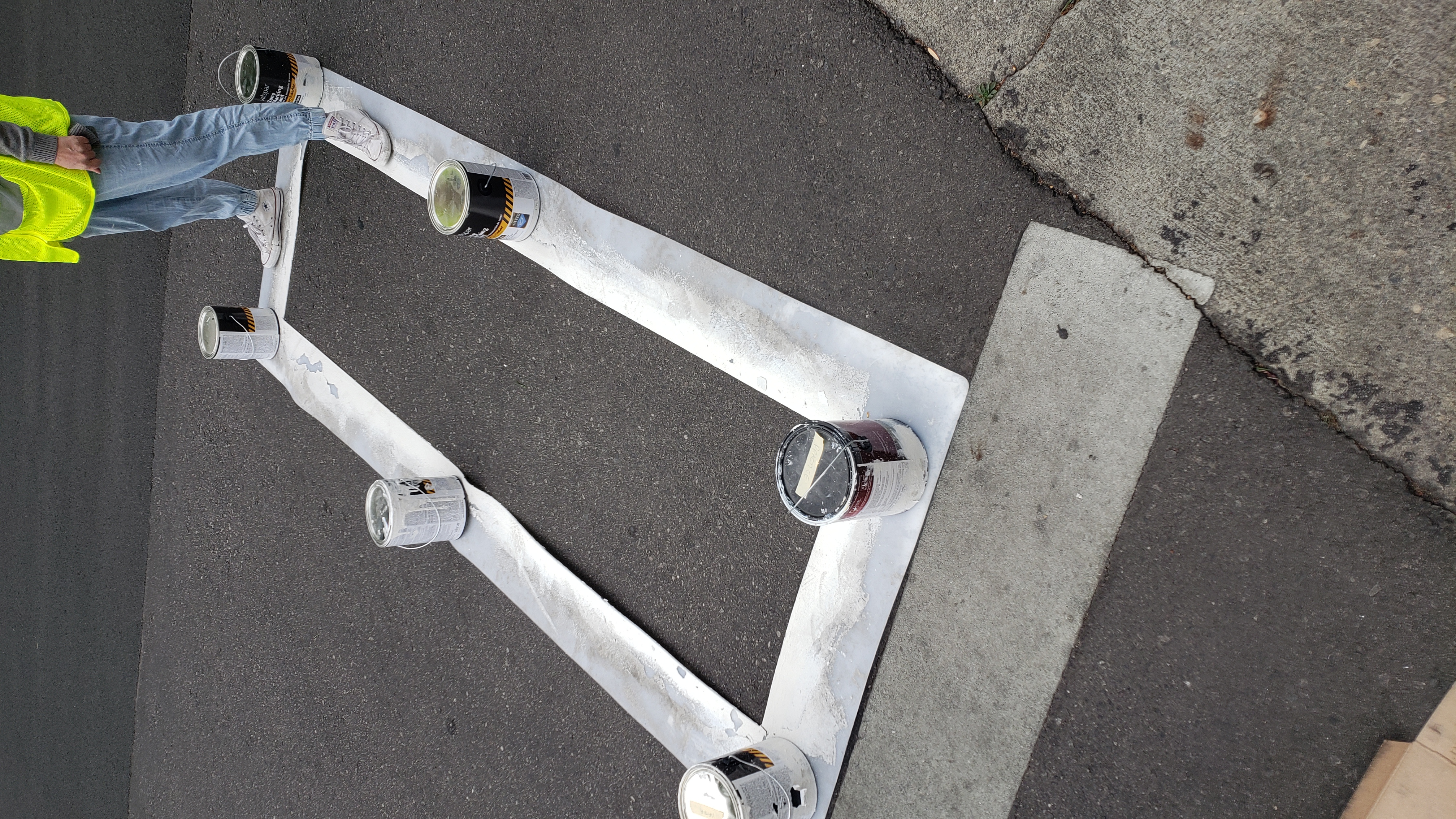 3. Paint
Open, stir, and pour your paint into your paint tray. Put newspaper or cardboard beneath the tray in case of spills. Use your push broom to clear debris if needed. Using your paint roller extension, paint the crosswalk.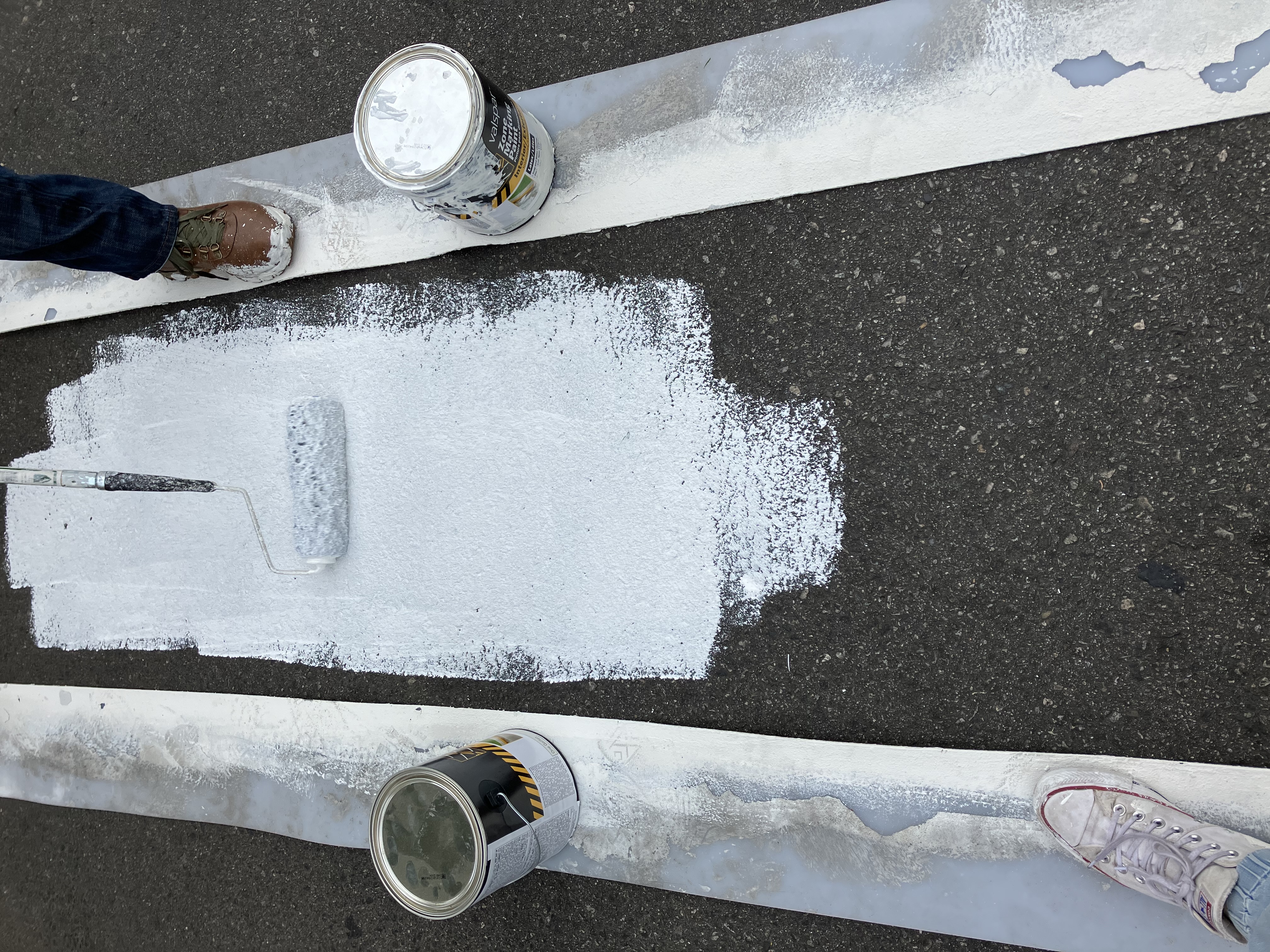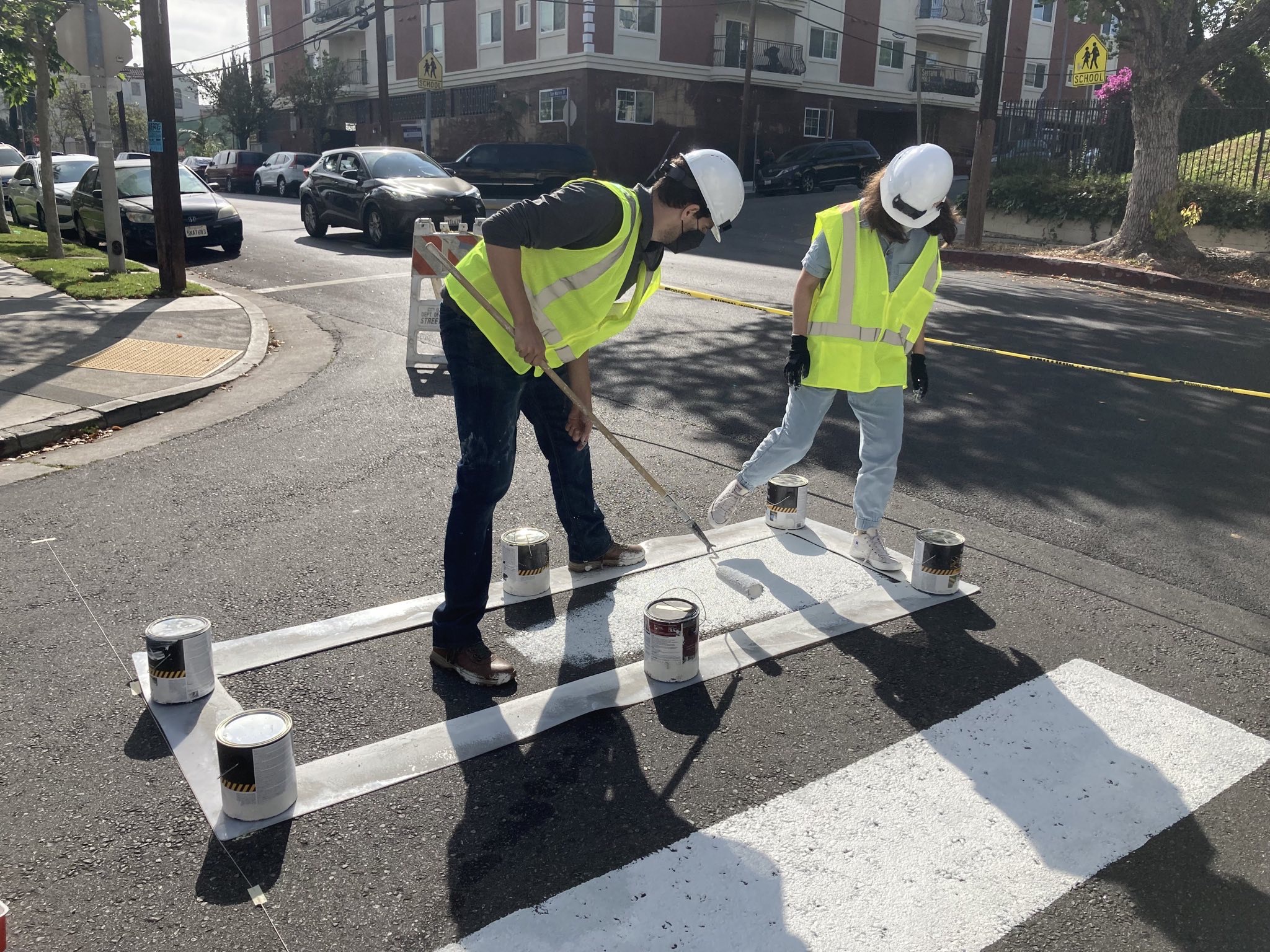 4. Get crisp edges
Make sure to get into the edges and corners. As you paint edges and corners, ask another participant to step on the stencil as close to the edge as possible to avoid painting under the stencil.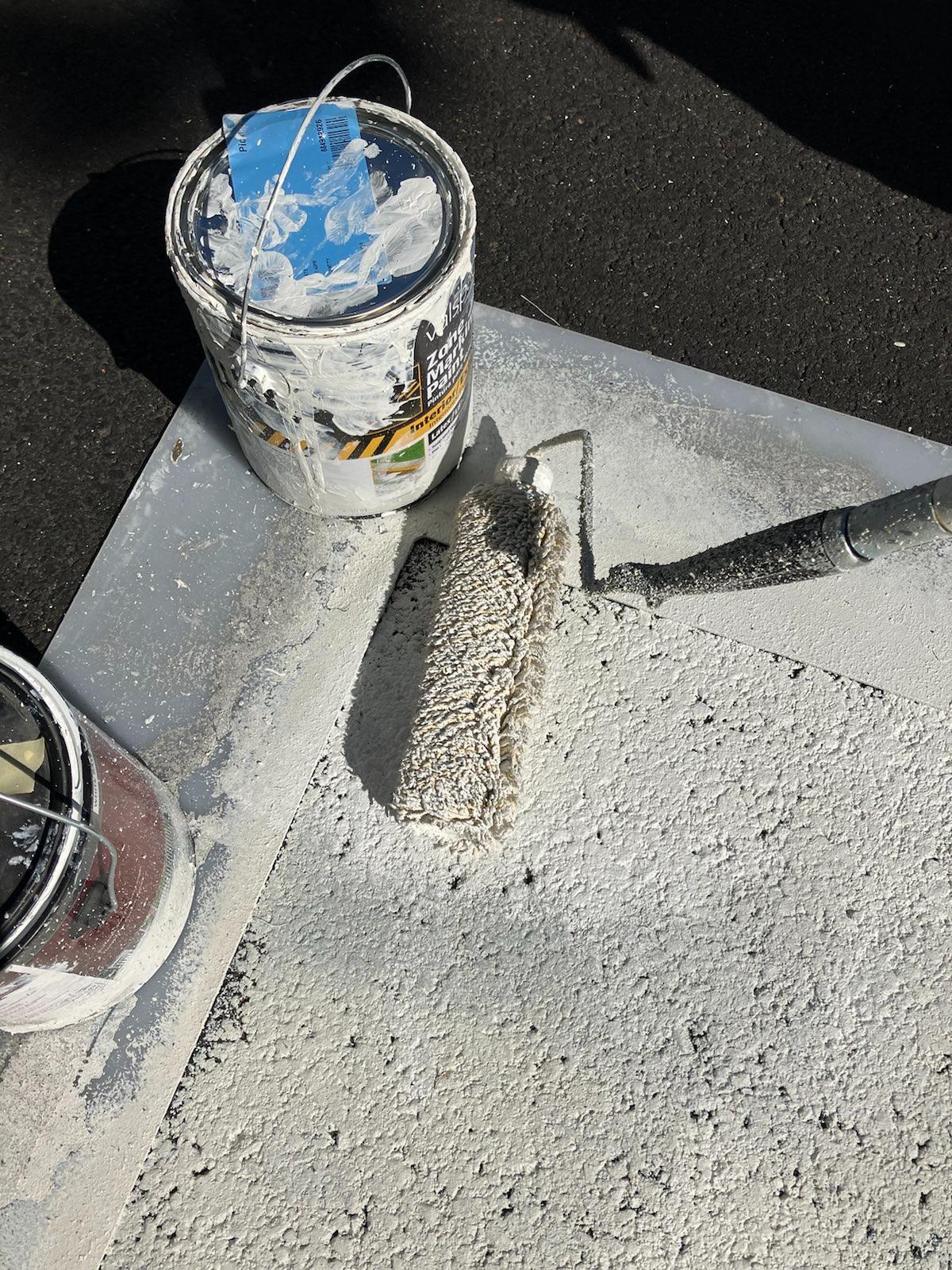 5. Measure the spacing to the next bar
Without moving the stencil, use a ruler and chalk to measure the location of the next crosswalk bar (if you have enough participants, this can be done while the previous bar is being painted). We measure 15 inches — this starts from the outside of the stencil and goes to where the outside of the stencil will next be placed, giving you about 2.5 feet between crosswalk bars.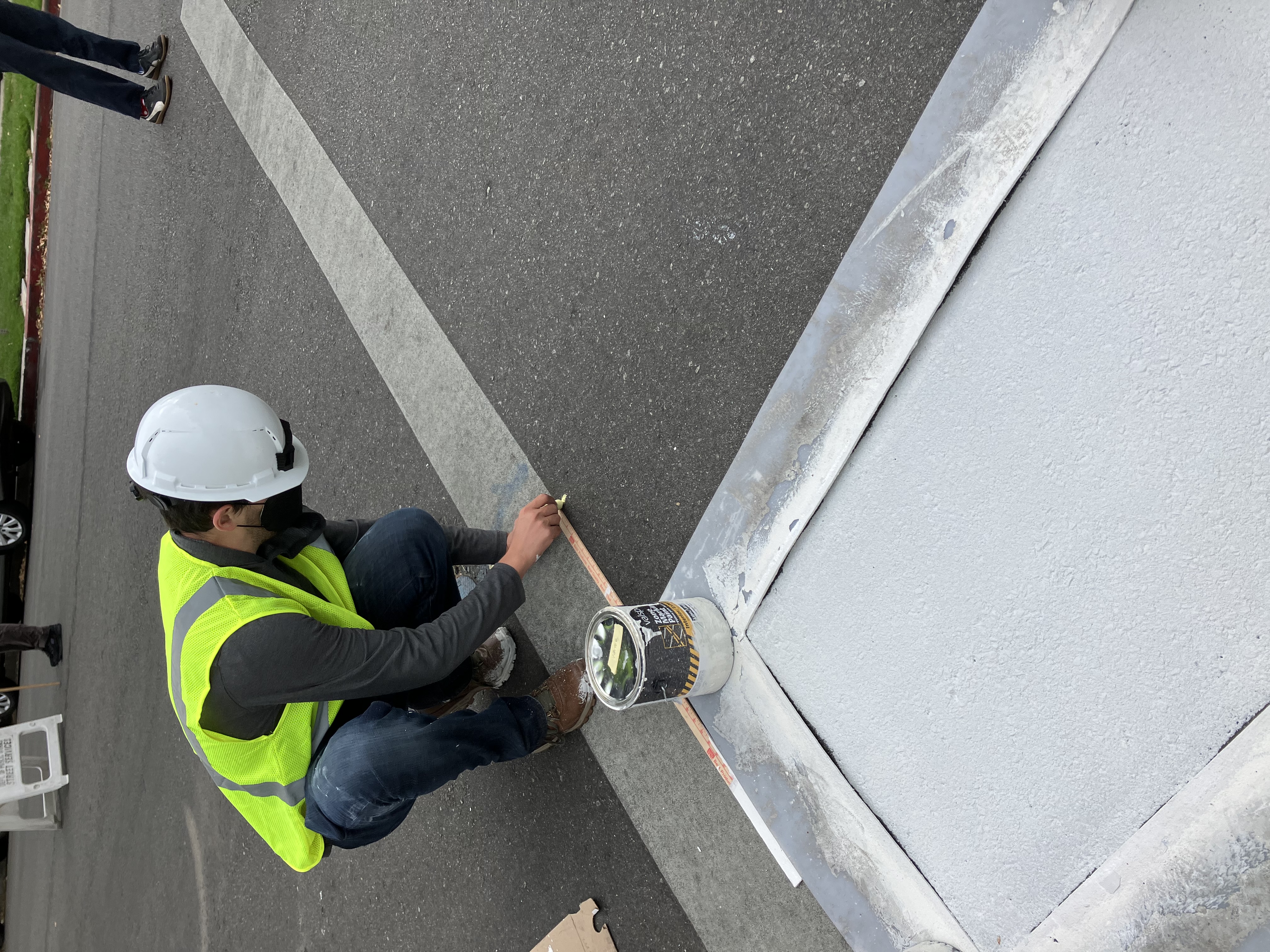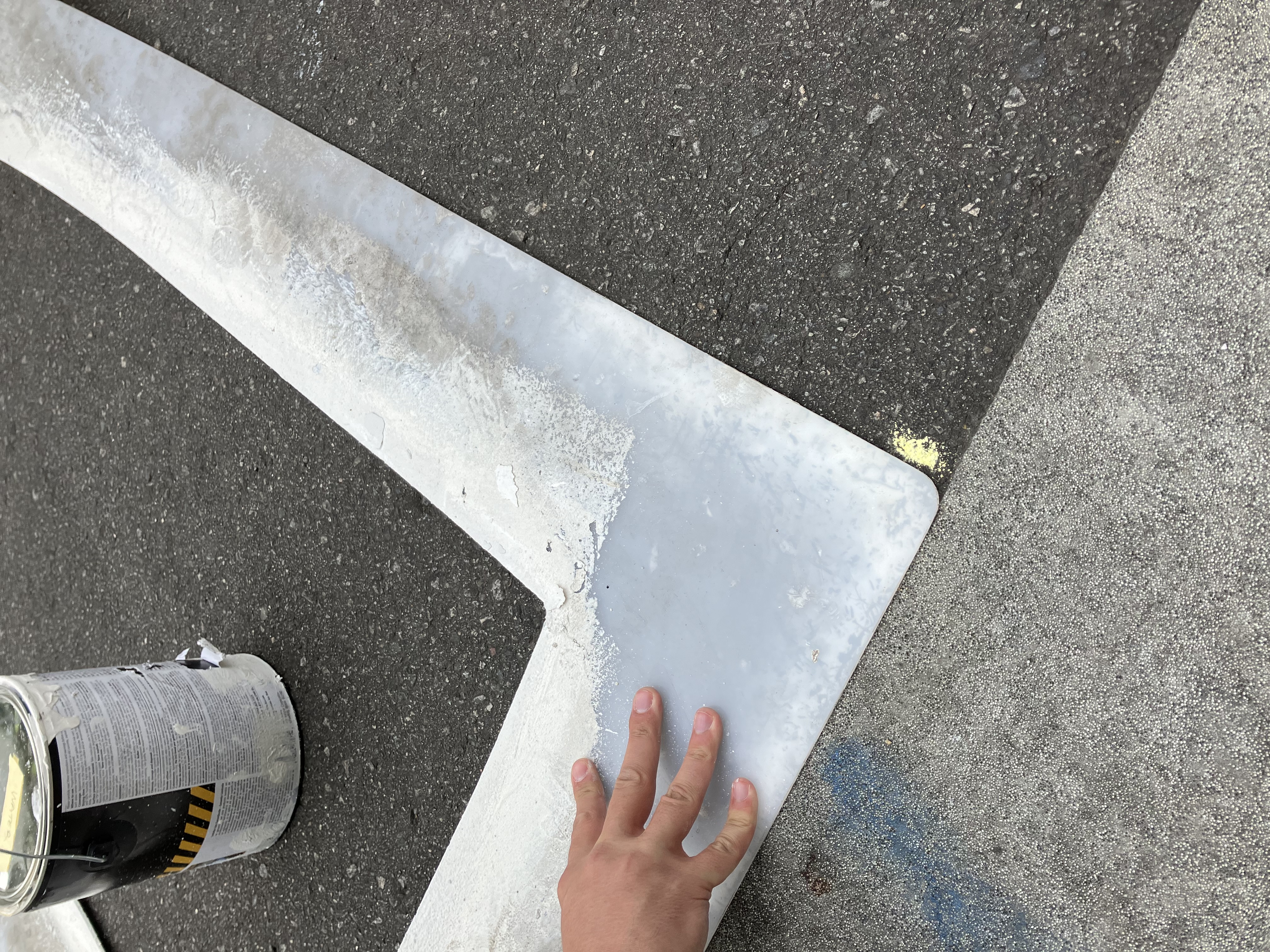 6. Move the stencil
Remove the heavy objects holding the stencil. Using two people, lift the stencil from each end and place it in the next spot. (Be careful when moving the stencil and paint cans that you place the cans out of the way to avoid spills.) Replace the heavy objects, making sure the stencil is properly aligned.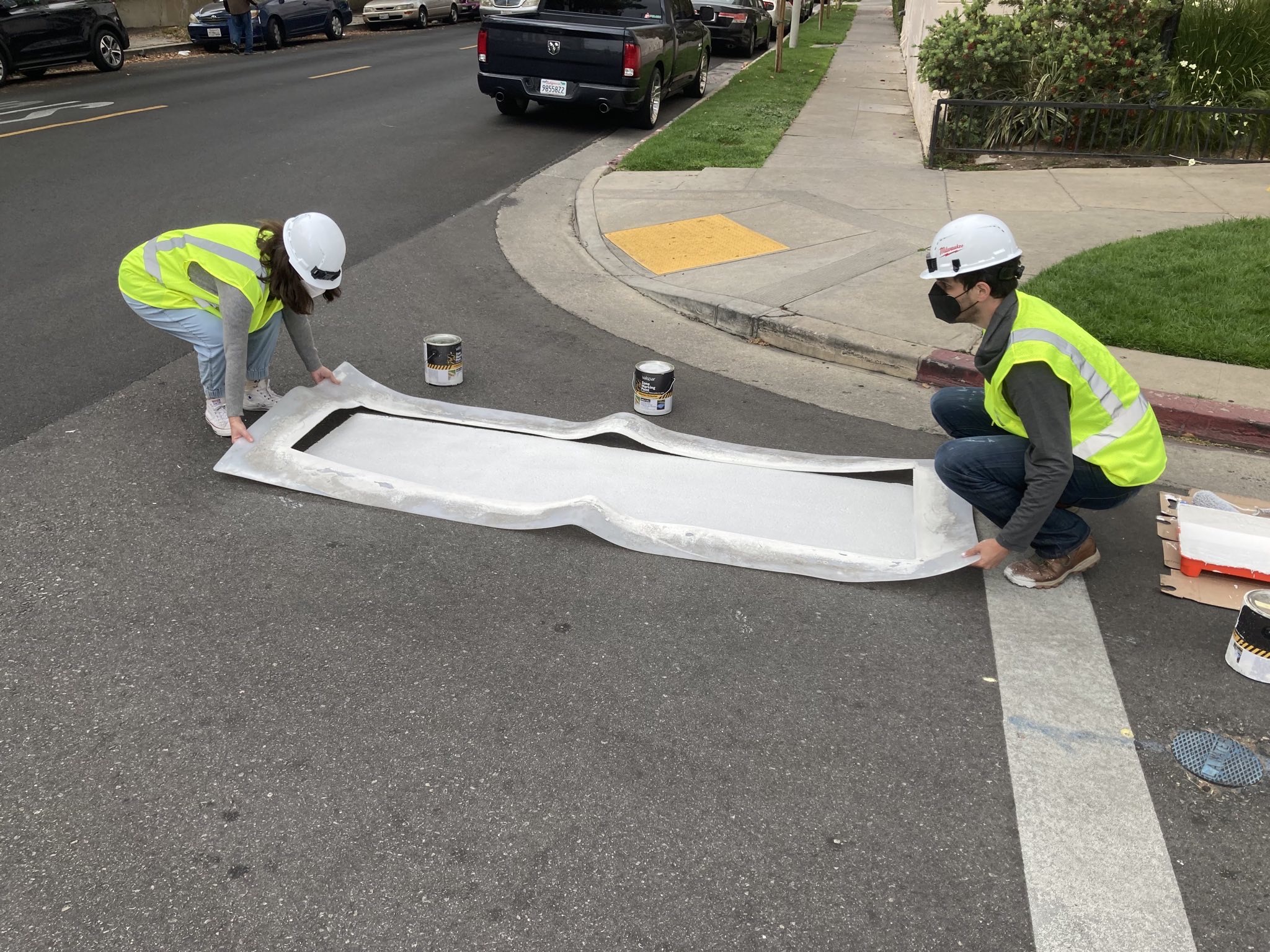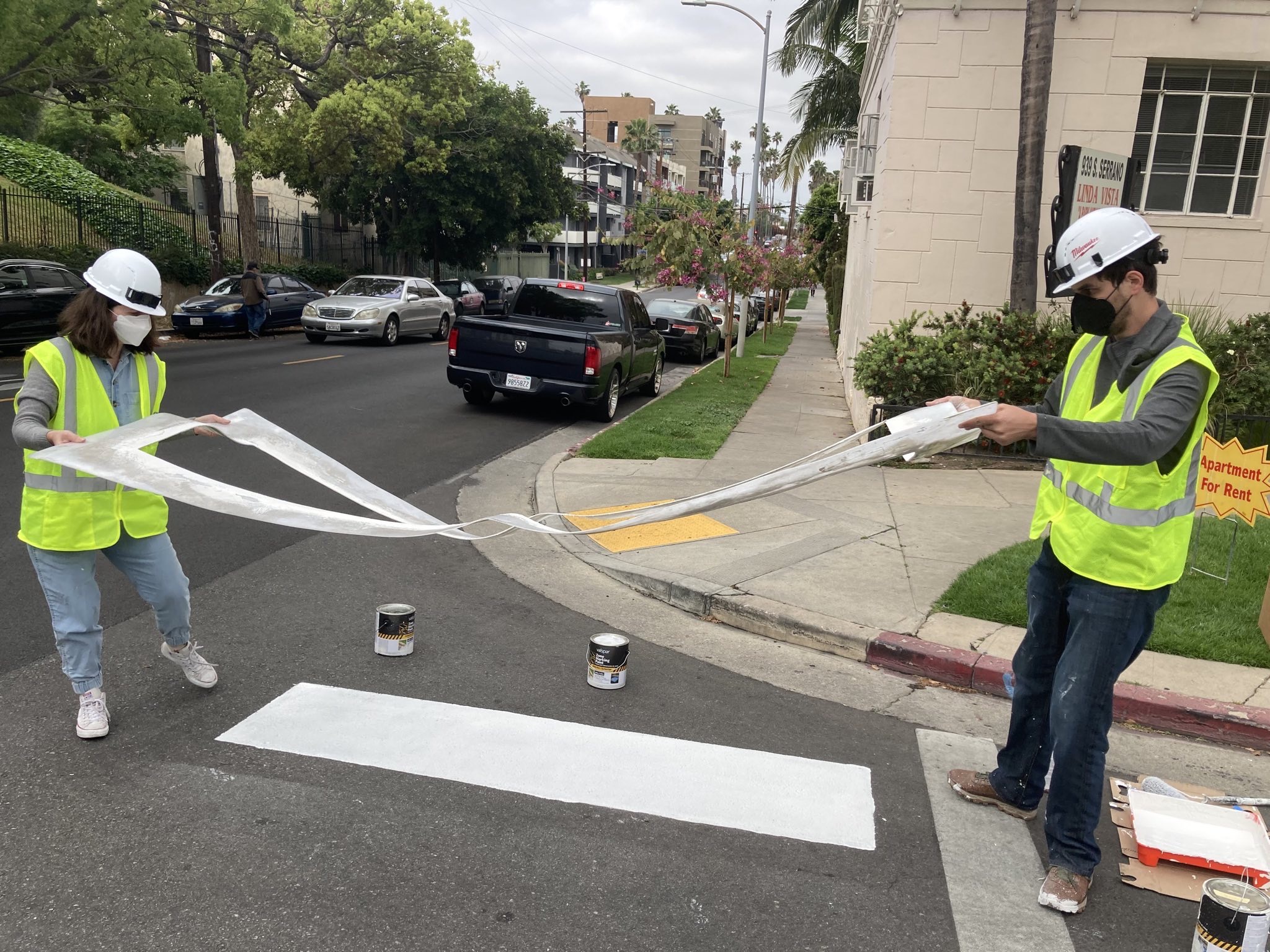 7. Repeat
Paint and repeat until you have half the street done.
8. Let the paint dry
Stop for 15 minutes to let the crosswalk bars fully dry (note: drying time will depend on the type of paint you are using; we recommend the quickest-drying you can find).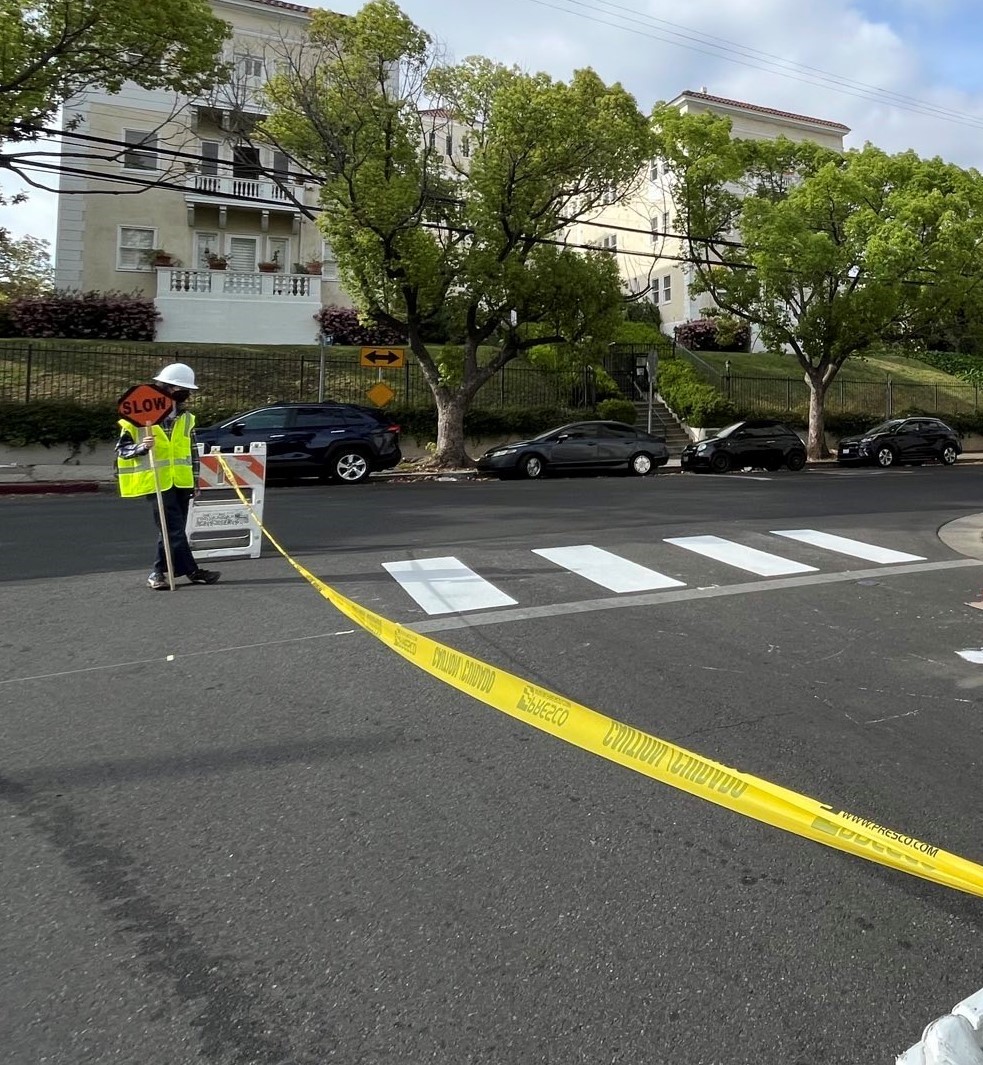 9. Paint the other half of the street
Move your traffic barricades to the other side. The stop line you used as a guide extends only halfway across the street. Use a piece of string to create a temporary line extension; tape it down with masking tape. Continue to measure and place your stencil as before. Paint the remaining bars, then wait 15 minutes for them to dry.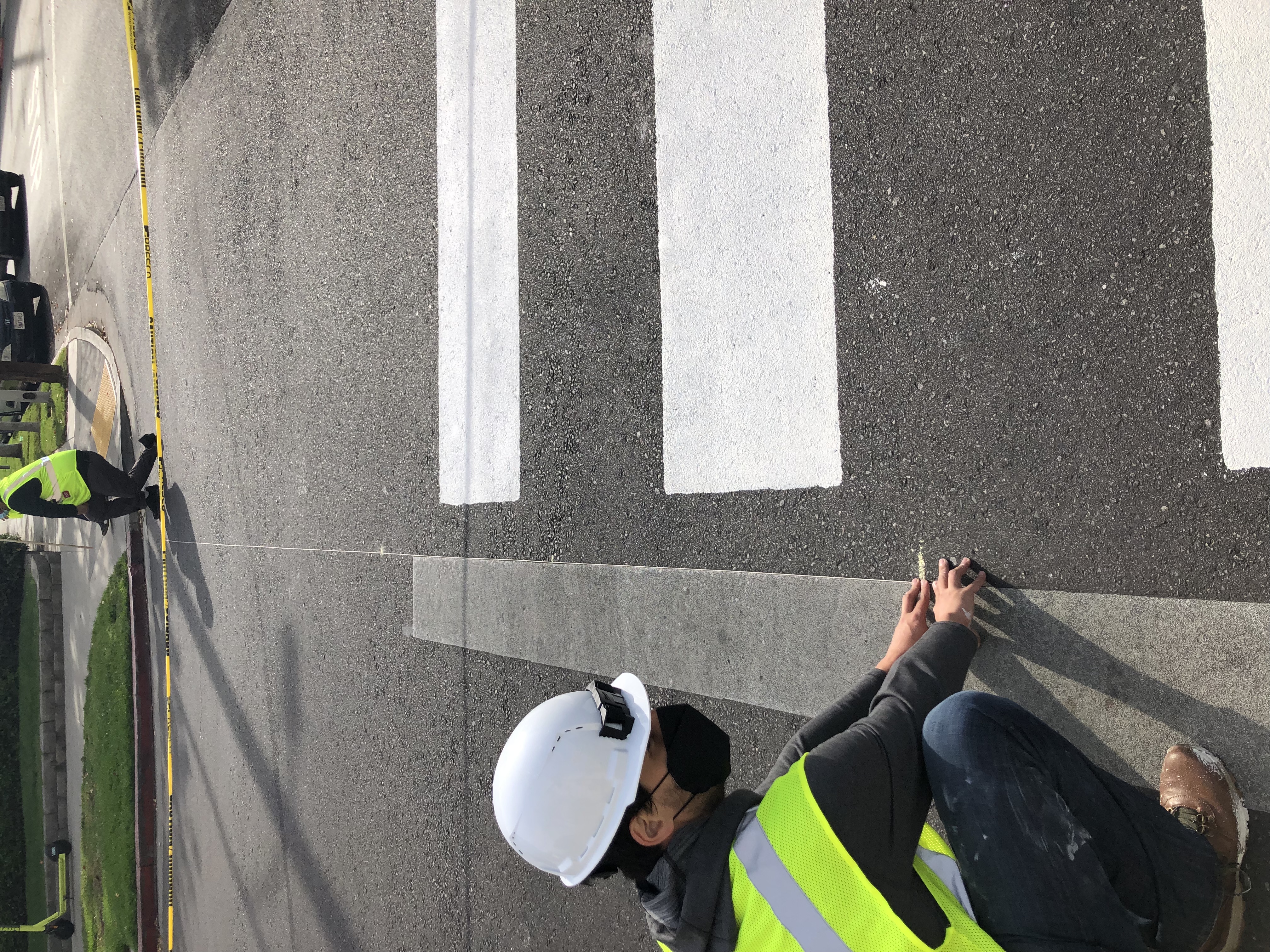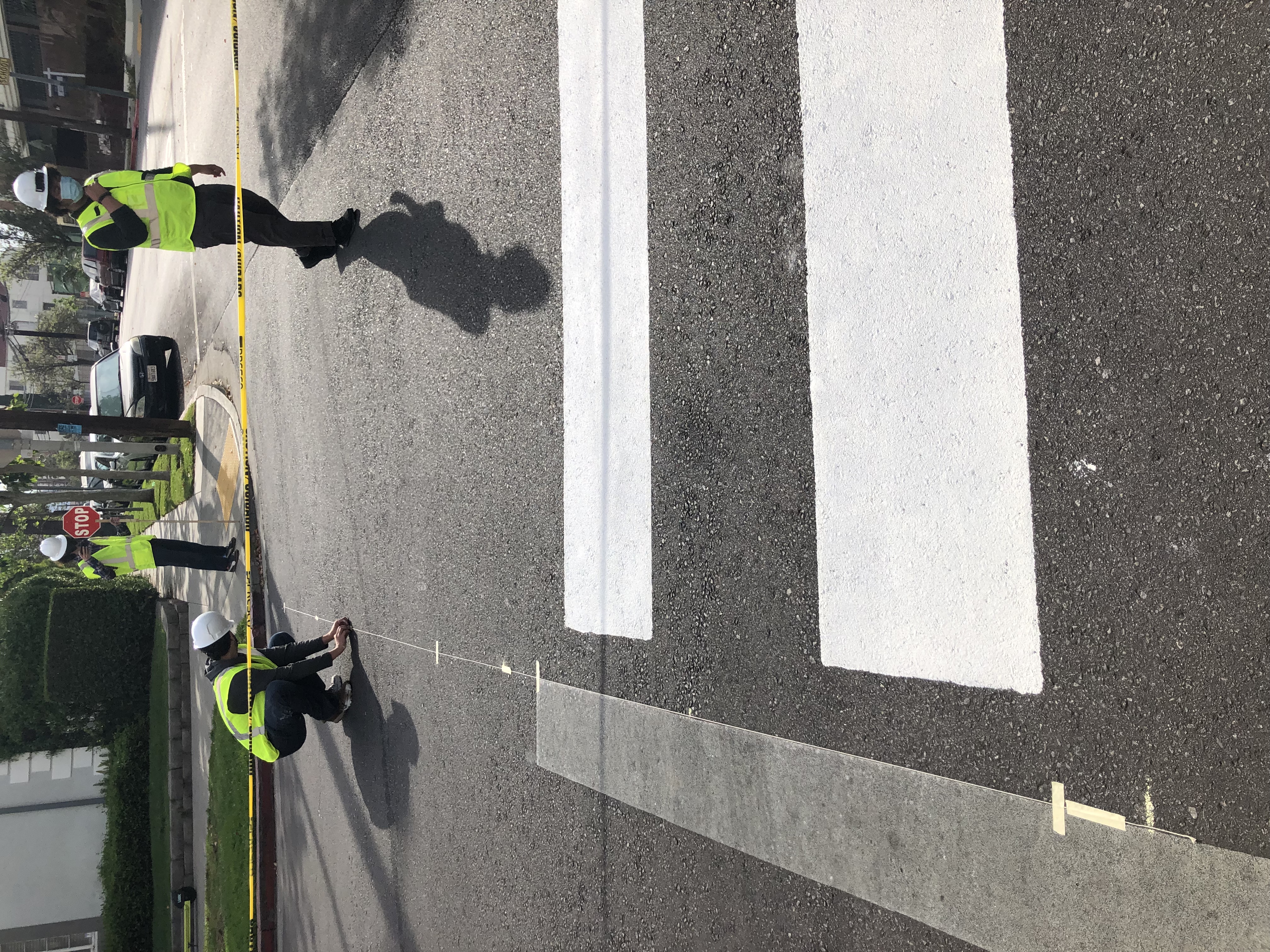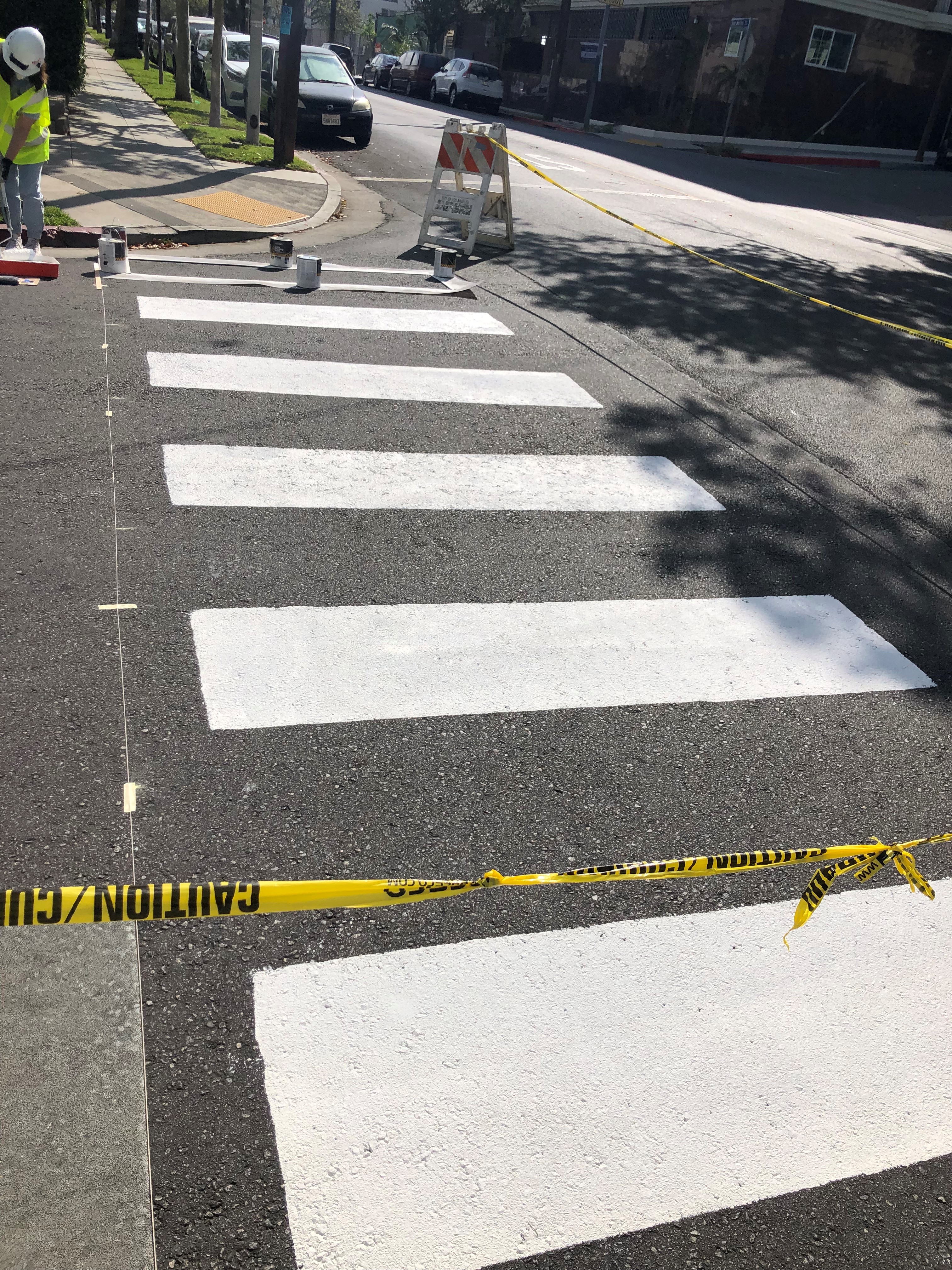 10. Pack up
While the last bars are drying, pack up all materials, making sure you take any trash with you including the string you taped down. Continue to manage traffic until paint is dry.
The first vehicles that will drive over your new crosswalks will leave visible tire marks. Do not worry! This is normal, even if the paint is fully dry.